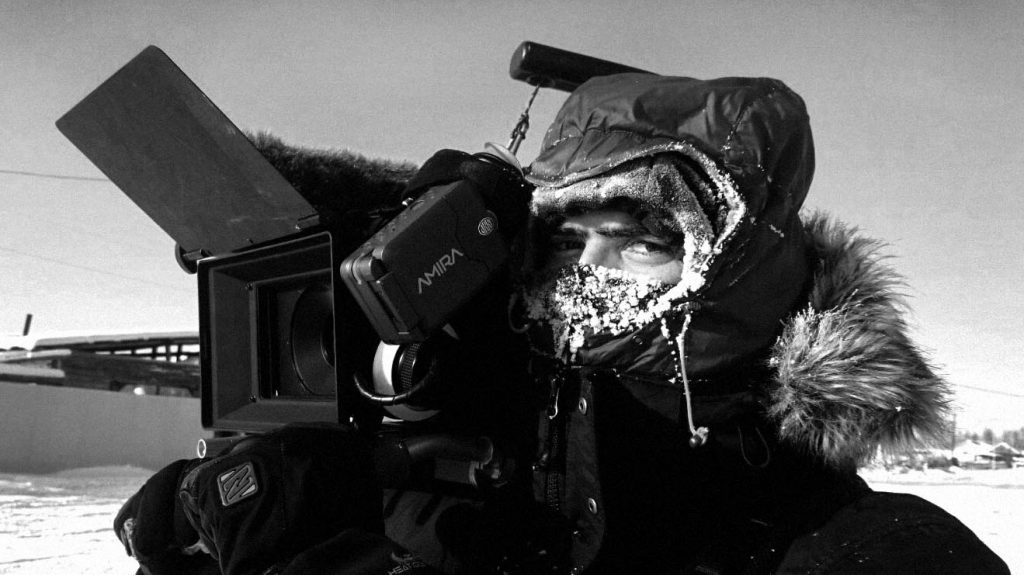 Biography
Enno Endlicher studied at the Academy of Media Arts in Cologne under the direction of cinematographers such as Slawomir Idziak (Harry Potter and the Order of the Phoenix, Black Hawk Down, Gattaca) and director Stanislaw Mucha (Hope, Absolut Warhola).
In 2015, his commercial Cleptomanicx – The Coup was shortlisted for the Cannes Lions Festival and it was awarded a Silver Clio. In 2016, the documentary feature Original Copy was awarded 'Best Film' and 'Best Documentary Director' at the Fantastic Fest/Texas. For Stanislaw Mucha's documentary feature Kolyma – Road of Bones, he traveled more than 2000 km through the Siberian ice with temperatures dropping below -60° C. The film premiered at Hot Docs Film Festival/Toronto in 2017 and won 'New-Berlin-Award' as best documentary film. His latest documentary feature German Class premiered at the Sheffield Doc/Fest in June 2018.
Currently he is preparing his next feature film.
Filmography as Cinematographer (Selection)
2018
SECHSVIERTEL
Regie: Guido Weihermüller
Kamera: Enno Endlicher
Produktion: Close Distance Productions, Web-Serie/TV/-Kinodokumentarfilm (Farbe / RED RAW)
PHENOMS
Director: Mirko Dreiling
Cinematographers: Enno Endlicher, André Jäger
Production Company: Fox Sport, The Boardroom, TV/-Kinodokumentarfilm (Color /Sony FS7)
2016-2017

GERMAN CLASS
Director: Florian Heinzen-Ziob
Production Company: Polyphem Filmproduktion, Kinodokumentarfilm (B&W/ RED RAW)

KOLYMA – Road of Bones
Director: Stanislaw Mucha
Production Company: Tag/Traum Filmproduktion, Kinodokumentarfilm (ARRI AMIRA)
2015

FOR YOUR OWN SAFETY
Director: Florian Heinzen-Ziob
Production Company: Polyphem Filmproduktion, Kurzfilm (Color / RED RAW)
2014

ORIGINAL COPY
Director: Georg Heinzen und Florian Heinzen-Ziob
Production Company: Polyphem Filmproduktion, Kinodokumentarfilm (Color / RED RAW)

CLEPTOMANICX – THE COUP
Director & Production: Fabian&Fred GbR
Commercial (Color / RED RAW)
2013

QUICKPOLE und TINY MIC für Ambient Recordings
Director: Fabian Driehorst
Production Company: Fabian&Fred GbR, Werbefilm (Color / Highspeed Sony XD-CAM)

WEISSE NACHT
Director: Sabrina Sarabi
Production Company: Augenschein Filmproduktion und KHM, Kurzspielfilm (Color / XD-CAM HD)

TOMO
Director: Florian Heinzen-Ziob
Production Company: 58Filme und KHM, Kurzspielfilm (Color / ARRI ALEXA)
2012

UP AND DOWN THE HORIZON
Director: Sabrina Sarabi
Production Company: KHM, Kurzspielfilm (Color / XD-CAM HD)

DIE KAKERLAKE
Director: Stephan Ganoff
Production Company: KHM, Kurzspielfilm (Color / Canon 5D MKII)

DER SCHROTTMANN
Director: Fabian Driehorst
Production Company: KHM, Kurzspielfilm (Color / S-16)
Festivals & Awards
GERMAN CLASS
Sheffield international Documentary Festival 2018 (World premiere, UK)
29. Kinofest Lünen ***AWARD LÜDIA und Schülerfilmpreis 16+***
KOLYMA – Road of Bones
DOK Leipzig 2017 (German premiere)
Toronto Hotdocs International Documentary Festival 2018 (World premiere, Canada)
ACHTUNG Berlin ***AWARD best Documentary"
FOR YOUR OWN SAFETY
Tribeca Film Festival, USA (2016)
International Festival of Bilbao Zinebi, Spain (2016)
Woodstock Film Festival, USA (2016)
Tangier International Film Festival, Marocco 2016 ***best Shortfilm***
Nottingham International Film Festival, UK (2016)
Asiana International Short Film Festival, Southkorea (2016)
NCFA Director's Award, USA (2016)
Best Feature Film, International Film Festival Zoom-Zblizenia, Poland (2017)
ORIGINAL COPY
Toronto Hotdocs International Documentary Festival Kanada (2015, World premier)
Vancouver International Film Festival, Canada (2015)
Yamagata International Film Festival, Japan (2015)
Jio Mami Mumbai Film Festival, India (2015)
Rotterdam International Film Festival, Netherlands (2016)
"DOC Competition" Max-Ophüls-Preis, Germany (2016)
Mumbai International Film Festival, India (2016)
Fantastic Fest Film Festival, Austin, Texas, USA 2016  ***AWARD  best Documentary***
CLEPTOMANICX – THE COUP
Young Director Award @ Cannes Lions International Festival of Creativity, Frankreich (2015)
1.4 Awards, Großbritannien (2015)
Australian International Fashion Film Festival, Australien (2015)
Ciclope Festival, Berlin, Deutschland (2015)
View Conference, Turin, Italien (2015)
Seoul Best of the Best Animation Festival, Südkorea (2015)
Gold Young Director Award @ Creativity International Awards, Kentucky, USA (2015)
Silver Young Director Award @ Clio Awards, New York, USA (2015)
WEISSE NACHT
European Festival Sup' de Courts, France (2014)
9th Sunscreen Film Festival, St. Petersburg, Florida, USA (2014)
Worldfest – 47th Houston International Film Festival, USA (2014)
5th Ares International Film Festival of Syracuse, Italy (2014 – International Competition)
Portobello Film Festival, London, UK (2013)
Brno International Short Film Festival, Czech Republic ***AWARD best Director***
43rd Molodist Festival, Ukraine (Section: "GerMany Shorts Night")
DIE KAKERLAKE
FIPA – Festival International de Programmes Audiovisuels, Biarritz, France (2014)
International Gold Panda Awards for Students, Sichuan TV Festival, China (2013)
18. Filmfestival Türkei/Deutschland, Nürnberg, Deutschland (Award: Best Shortfilm)
Mediawave – International Film and Music Festival, Hungary (2013)
Ljubjana International Short Film Festival, Slovenia (2013)
UP AND DOWN THE HORIZON
9th Sunscreen Film Festival, St. Petersburg, Florida, USA (2014)
23rd Sao Paulo Film Festival, Brasil
46th Worldfest Houston International Film Festival, USA ***Remi Award***
39th Seattle International Film Festival (SIFF's Shortfest Weekend), USA
Portobelle Film Festival, London, UK (2013)
Great Lakes International Film Festival, USA
43rd Molodist Festival, Ukraine (Section: "GerMany Shorts Night")